The Junior Entrepreneurs arrived to Brussels during the day and the opening ceremony started with the welcome speech of Daniela Runchi, JADE's president.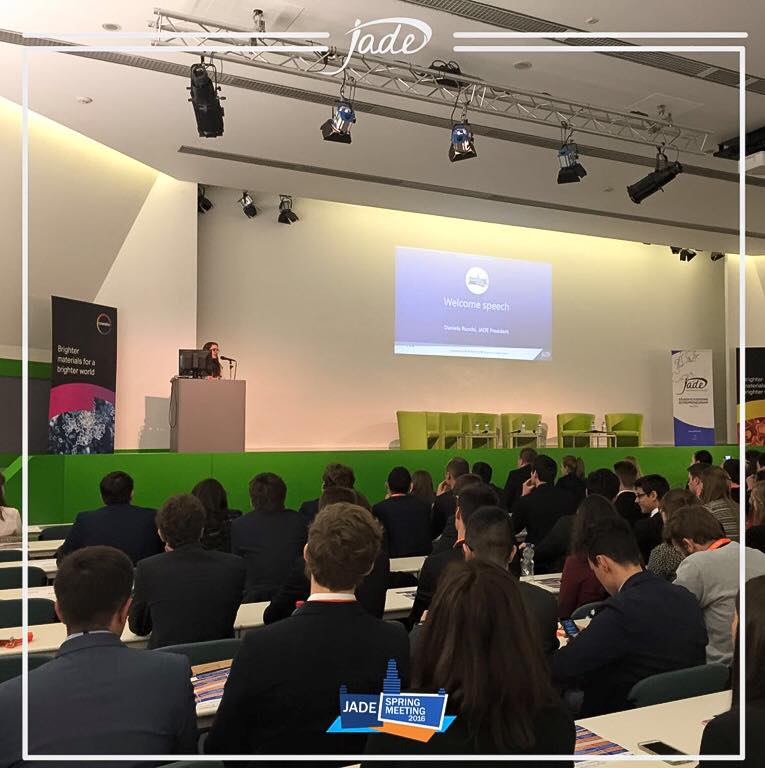 The welcome speech was followed by a Panel Discussion about "Entrepreneurial Skills in the Digital Markets" with Dennis Tan from Dashmote, Helen Kopman (Deputy Head of Unit, Innovation, at the European Commission), Steven Price from EIIL, Maciej Surowiec from Microsoft and Simone Baldassari (Policy officer, European Commission, DG GROW). During the discussion the participants debated Entrepreneurial skills in the digital markets. Mr. Baldassari made the point that 'Junior Enterprises are an excellent way to experience Entrepreneurship while at University' whereas Steven Price commented 'Steven Price:
(As a university student) JE movement and any other extra curricular activity where you have to organize, where you have to have an idea and you have to execute that idea: these are the skills that sets you apart.'
After the Panel Discussion the finalists of the Excellence Awards made their presentations to the jury.
The Junior Entrepreneurs also had the opportunity to listen Dr. Klaus Hilleke's (CEO of Simon-Kucher & Partners) keynote speech about "Hidden Champions: what we can learn from the world leaders in innovation. Dr. Hilleke made a point 'One of the characteristics of the hidden champions is that they have extremely ambitious goals. They want to lead the market.'
 Gala Dinner
The Junior Entrepreneurs arrived to the Raddison Blu hotel where the Gala Dinner took place.
During the dinner former President of the European Council Herman van Rompuy gave a keynote speech about the near future of the European Union as 'one civilization with many cultures' and the European economy, which is according to him 'lagging behind' in comparison. He furthermore suggested that 'We have to think at new government structures'.
Afterwards, the SVP of Covestro Mr Hermann Bach hold an inspiring speech concerning the concept of innovation and intrapreneurship in Covestro.
The jury also made the decision about the winners of the excellence awards.
The winners are Marketing Mediterranée for most socially responsible project, JETop for most innovative project, WBC for most international JE, JECatt for most entrepreneurial JE, LisbonPH for most promising JE
And the award for the Junior Enterprise of the year went to Escadrille.
Congratulations for the winners!
Monique Blokzyl held an inspiring speech during the award ceremony about junior entrepreneurs, motivation and her personal journey in the world of entrepreneuship 'Follow your heart and make things happen'.